[JUNE 21, 2013]
We are in this month's Minneapolis/St. Paul Business Journal Top 25 List!
[MAY 20, 2013]
Loud Neighbors Sound works with Rokeby Museum in Vermont.
We had fun doing voice, sound effects and original music for Rokeby Museum in Vermont to create the object-theatre show "Free and Safe."

More information here, as well as www.rokeby.org.
[APRIL 17, 2013]
New gear.
With the Korg SV-1 and microSTATION, your sound is covered. We love these boards…they are already being put to work.
"New" vintage pair of Beyer M260 ribbons. Smooth mics. New pair of Yamaha HS80M speakers for mixdown.




[MARCH 22, 2013]
Joe Muldoon: No Future In It.
Joe Muldoon plays with apocalyptic scenarios @ Loud Neighbors Sound.
Personnel:
Guitar, Main Vocals & Song Credit: Joe Muldoon
Drums, Organ: Jordan Hedlund
Backing Vocals: Deb Harley
Bass, Engineering, Mastering: Dik Hedlund
[FEBRUARY 25, 2013]
Original soundtrack for our good friends at Acoustic Geometry.
When Acoustic Geometry needed cutting edge original music to match their cutting edge products, they called Loud Neighbors Sound.

[JANUARY 26, 2013]
Hans Bjornson is at it again.

Personnel:
Guitar, Main Vocals & Song Credit: Hans Bjornson
Banjo: Christian Bjornson
Drums, Bass, Keys, Additional Vocals, Mixing & Mastering: Jordan Hedlund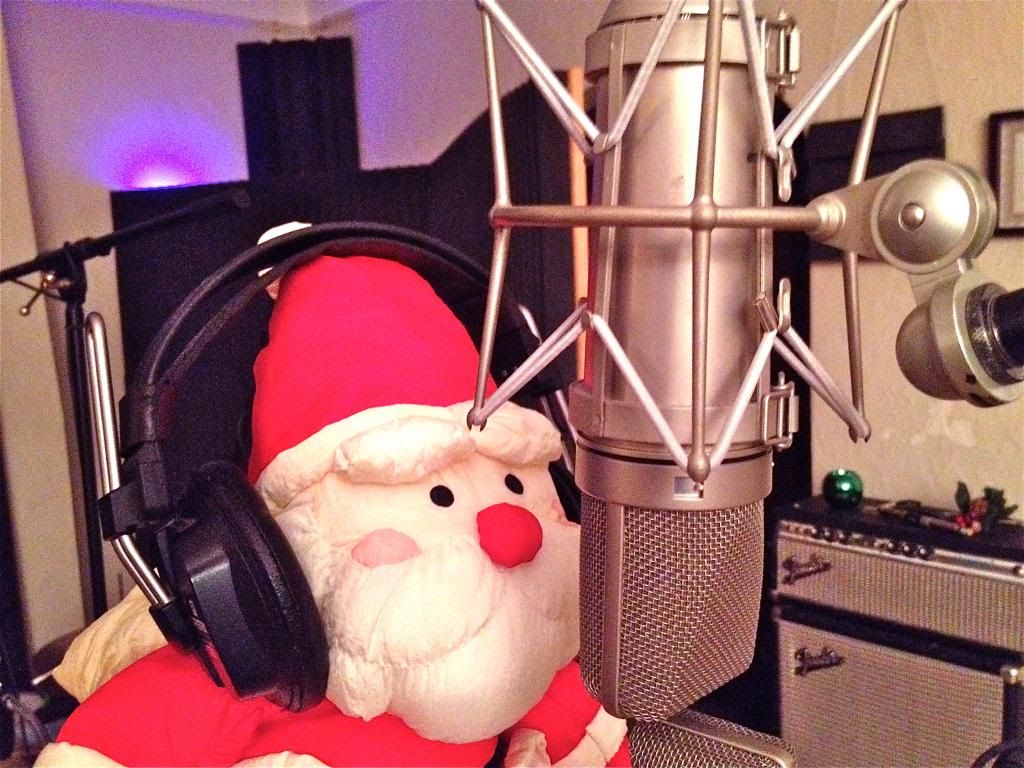 [DECEMBER 31, 2012]
Happy Holidays from Loud Neighbors Sound.
It was a fun and exciting year, with a great sounding exhibit running at the Science Museum, a full-length album, and many talented artists in the studio.
Here's to an even better 2013.
-Dik & Jordan
[NOVEMBER 26, 2012]
Some Updates:
The gentle hiss. The soft clipping. That pleasing analog sound.
Loud Neighbors Sound welcomes the Otari MTR-10 to our collection. Thanks to Steve Harley at Audio Ruckus, and thanks to Christian Bjornson for helping us move it in.
New expansion to 32 track I/O capability for Mackie analog, (but NOT limited to 32; infinite tracks in the box, of course!)
New recessed rack cabinet in the control room so you have more room to put your feet up.
New photos added of these improvements and more to our gallery.
The MTR-10 in action? Here's a July 1985 demo for Gary Gauger's PureCussion set from the master tape with Dik Hedlund on bass, PureCussion and RIMS inventor Gary Gauger on drums, and the late great Mike Elliott on guitar.




[OCTOBER 28, 2012]
Just in time for Halloween… "Where The Kitty Goes When the Kitty Goes Out", another classic written by Joe Muldoon.
Watch the video and listen to the song in its entirety here.
Personnel:
Vocals & Song Credit: Joe Muldoon
Electric Bass, Aux Percussion & Sound Design, Engineering & Mastering : Dik Hedlund
Piano, Synth, Drums, Electric Guitar, Sound Design, Mastering: Jordan Hedlund